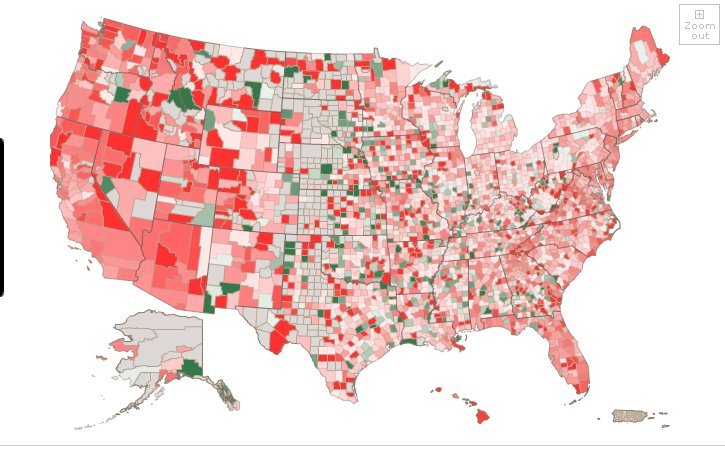 The map above shows where delinquencies have steepened since October 2009. The more red an area is the more severe the change.
Green indicates areas where conditions have improved, and the gray shading indicates areas where there has been no change
.
In almost

all

parts of California, Washington and Oregon, delinquencies are far worse than they were a year ago.
Disturbingly, there are only a handful of counties across the nation where mortgage delinquencies are actually improving over last year. (Kudos to Beaverhead, Montana and Red River, Texas!)
The New York Fed's website, which also tracks other measures of consumer credit, including auto loans, student loans, and bank loans, is intended to help "government agencies, community groups, commercial institutions and other practitioners better understand, monitor and respond to local conditions associated with foreclosures and credit and mortgage delinquencies."
Much was made last quarter about the decline in the 30 day delinquency "bucket" (percent of loans between 30 and 60 days delinquent). Unfortunately the seasonally adjusted 30 day delinquency rate increased in Q1 2010.
Note: there are some questions about the seasonal adjustment, especially for the 90 day bucket since we've never seen numbers this high before, but the adjustment for the 30 and 60 day periods are probably reasonable.
Click on graph for larger image in new window.
Loans 30 days delinquent increased to 3.45%, about the same level as in Q4 2008.
Provided by Donna Antonucci
Prudential Castle Point Realty
donnaantonucci@gmail.com
201-240-6832
Delinquent loans in the 60 day bucket increased too, and are also close to the Q4 2008 level. This suggests that the pipeline is still filling up at a high rate, but slightly below the rates of early 2009.
The 90+ day and 'in foreclosure' rates are at record levels. Obviously the lenders have been slow to start foreclosure proceedings - and the 90+ day delinquent bucket is very full. Also lenders have been slow to actually foreclose - and the 'in foreclosure' bucket is at record levels.
These seriously delinquent loans are the 4.3 million loans MBA Chief Economist Jay Brinkmann referred to as the "shadow inventory" on the conference call this morning. Not all are really "shadow inventory" since some of these loans will be modified, some will be cured (probably very few), and some are probably already listed as short sales. But it does suggest a significant number of distressed sales coming.
The second graph shows the delinquency rate by state (red is seriously delinquent: 90+ days or in foreclosure, blue is delinquent less than 90 days).
This highlights a couple more points that Brinkmann made this morning: 1) the largest category of delinquent loans are fixed rate prime loans, and 2) this is not just a "sand state" problem. Brinkmann argued the foreclosure crisis is now being driven by economic problems as opposed to the bursting of the housing price bubble - and this is showing up in prime loans and all states. Although Florida and Nevada are very high, notice that the blue bar (new delinquencies) are higher in many other states.
Thirty four states and the District of Columbia have total delinquency rates over 10%. This is a widespread problem.
Provided by Donna Antonucci
Prudential Castle Point Realty
donnaantonucci@gmail.com
201-240-6832