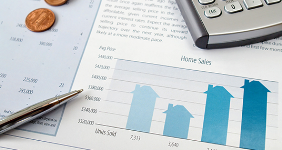 30 year fixed rate mortgage – 3 month trend
By Marcie Geffner • Courtesy of Bankrate.com
Up: That was the clear direction of mortgage rates yet again this week.
The benchmark 30-year fixed-rate mortgage rose to 4.1 percent, compared with 3.99 percent last week, according to the Bankrate.com national survey of large lenders. The mortgages in this week's survey had an average total of 0.3 discount and origination points.
Five weeks ago, the 30-year fixed averaged 3.52 percent. It has risen five weeks in a row. One year ago, that rate stood at 3.92 percent. Four weeks ago, it was 3.6 percent -- meaning that the rate has risen exactly half a percentage point in a month.
The last time the 30-year fixed was this high was April 18, 2012, when it averaged 4.1 percent in Bankrate's survey, the same rate as this week. It had averaged 4.11 percent the week before that.
The benchmark 15-year fixed-rate mortgage rose to 3.28 percent this week, compared with 3.21 percent last week. That's the highest it has been since April 25, 2012. The benchmark 5/1 adjustable-rate mortgage rose to 2.93 percent from 2.81 percent. That's its highest level since Aug. 15. The benchmark 30-year fixed-rate jumbo mortgage rose to 4.27 percent from 4.2 percent. The jumbo is at its highest level since Sept. 19.
Average mortgage rates of large lenders for the week of June 7
Loan applications fall
Frank Nothaft, chief economist for Freddie Mac, said in a statement that higher mortgage rates followed higher long-term government bond yields, which followed a "growing market sentiment" that the Federal Reserve might ease off its accommodative monetary policy, which has kept rates artificially low. "Improving economic data may have encouraged those views," Nothaft says, citing two examples:
A Conference Board report that pegged consumer confidence in May at the highest level since February 2008.
A Standard & Poor's/Case-Shiller home-price index that rose in March to its highest reading since November 2008.
Higher rates have had a chilling effect on mortgage applications, which decreased 11.5 percent compared with the prior week, according to the Mortgage Bankers Association.
Refinance applications are more sensitive to rates than purchase applications are. The MBA survey found refinance applications dropped 15 percent in the recent week compared with the prior week while purchase applications declined only 2 percent. Refinance applications comprised 68 percent of the total applications in the recent week, the lowest proportion since early July 2011.
Buyers go ahead
Despite the upward trend, rates remain "very volatile," with some lenders re-pricing mortgages more often than they normally would, says Jim Pomposelli, a mortgage banker at The Federal Savings Bank in Chicago.
"Sometimes they are re-pricing three times a day," Pomposelli says. "That's a lot when you consider that banks aren't inclined to be moving their rates around that much because it makes it hard for consumers." Pomposelli also says buying is less sensitive to rates than refinancing is.
"In the purchase market, (borrowers) are concerned, but as long as they generally feel they are getting a fair rate, they are proceeding with buying their homes," he says. "If it's a straight-up rate refinance, most people have already done it, and for the few who haven't, it's getting less attractive."
The exception, Pomposelli adds, is a refinance that isn't driven by rate, but rather prompted by a life change such as a divorce. Another reason would be a rise in property value, giving the homeowner a larger equity stake with which to secure a new loan.
Jumbo spread shrinks
Rising rates might spur some additional homebuying activity by motivating fence-sitters to move forward, suggests Justin Lopatin, vice president of mortgage lending at PERL Mortgage in Chicago. "It's a catalyst that's giving them a kick in the rear," he says.
Buyers in high-priced housing markets might feel that kick especially swift since the spread between conventional and jumbo mortgage rates has narrowed by half as rates have risen this year.
"Typically the jumbo rates are one-quarter (percent) to one-half percent higher," Lopatin says. "But for whatever reason, the jumbo rates haven't fluctuated as much and haven't crept up. The 30-year jumbo is almost identical to the 30-year conventional. That's very unusual.

Information Provided by Donna Antonucci
Prudential Castle Point Realty
Have the blog come to you. Subscribe to the Newsletter.