MORTGAGE
Mortgage rates ride seesaw upward again
Mortgage rates climbed again after giving borrowers a short reprieve last week. The seesawing is likely to continue at least until the Federal Reserve meets later this month.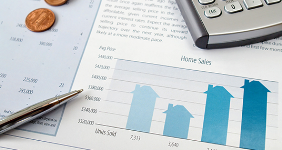 30 year fixed rate mortgage – 3 month trend
The benchmark 30-year fixed-rate mortgage rose to 4.72 percent from 4.62 percent last week, according to the Bankrate.com national survey of large lenders. The mortgages in this week's survey had an average total of 0.29 discount and origination points. One year ago, that rate stood at 3.79 percent. Four weeks ago, it was 4.56 percent.
The benchmark 15-year fixed-rate mortgage rose to 3.74 percent this week, compared to 3.66 percent last week, and the benchmark 5/1 adjustable-rate mortgage rose to 3.65 percent from 3.61 percent. The benchmark 30-year fixed-rate jumbo rose to 4.88 percent from 4.77 percent.
Mixed economic data, concerns about a potential U.S.-led military attack on Syria and anxiety over whether the Fed will begin to taper its bond-purchasing program this month are just some of the forces contributing to the volatility in rates.
"It's going to be an interesting month for rates," says John Stearns, a mortgage banker at American Fidelity Mortgage Services in Mequon, Wis.

Will the Fed push rates up this month?
Investors are waiting to see if the Fed will cut back on its $85 billion per-month stimulus program when the Federal Open Market Committee meets Sept. 17 and 18.
Rates could climb higher after the Fed's announcement, depending on the size of the reduction in bond purchases, says Michael Becker, a mortgage banker at WCS Funding in Baltimore.

"The markets have priced in a modest amount of tapering, but it would depend on the amount of tapering that is announced," he says.
The Fed might also decide that it's still too early to pull back on the stimulus, especially if the employment numbers that the Labor Department releases this week are lower than expected, Becker says.

Higher rates are inevitable
But even if the Fed delays the inevitable, the writing is on the wall, and mortgage borrowers see it: Mortgage rates will rise again sooner or later, says Pava Leyrer, president of Heritage National Mortgage in Grandville, Mich.
About 9 in 10 borrowers that Leyrer assists at her company choose to lock in a rate within a week after applying for the mortgage, she says.
"Everyone believes rates are going up into 5s by the end of the year or sooner," she says. "There isn't a buyer out there who wants to play the game."



Borrowers jump at the 2nd chance

Potential homebuyers worry that higher rates and rising home prices will make homeownership unaffordable. Many of those who previously owned a home but lost it to foreclosure or short sale -- because of income reduction or a job loss -- also are trying to beat the clock.

Leyrer says she has received numerous inquiries from potential buyers who have heard about the Federal Housing Administration's new back-to-work lending program. The FHA recently announced changes to the program, allowing borrowers to apply for a new mortgage a year after foreclosure, short sale or bankruptcy. The FHA previously required buyers to wait three years before applying for a mortgage.

"I think it may take 30 to 90 days before you see more lenders doing these loans," she says.
The program also helps borrowers whose credit got tainted because of late payments resulting from the loss of income or job, Leyrer says.

But these borrowers may need a little patience while lenders adjust to the new guidelines. Most lenders have not embraced the program yet.

Information provided by Donna Antonucci
Prudential Castle Point Realty
201-240-6832

www.hobokenrealestatemonitor.com
www.donnaantonucci.com
www.vrealia.com (listings search engine)

www.Twitter.com/Donnaantonucci